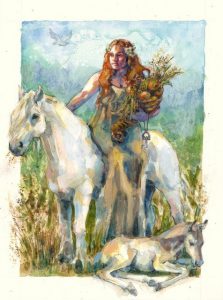 There are people who come into this life whose sole purpose is to remind us that there is a greater plan. Yet in that greater plan there is also unbelievable simplicity.
Their life seems to be directed by some greater force, their actions exemplify gentle strength, compassion and Love. Yet, when you read back to their history – in the midst of an ordinary life, they appeared to go un-noticed. Sometimes I wonder how many of these people are walking our planet today disguised as mothers, fathers, neighbors… perhaps even your best friend.
Why are these beings so different? They are so focused on their Truth, their beliefs in something far greater than they – God, Universe, Creator – unshaken. Yet… there is something indistinguishable about them, about their energy – they sparkle without speaking. Their eyes twinkle and their Peace is genuine.
I gathered with my spiritual circle and we were talking about ascended masters, we were each assigned at random – mine was Epona. She is tied to Celtic tradition which has left mythological writings in Ireland; the myth states Epona was the beautiful child of a horse and human male. (the irony of this… is that I always have told my mother that I am Irish from another lifetime.. and ofcourse, wow! I can't dismiss the birth sign connection)
Now, what is interesting that my birth sun sign is Sagittarius…, the half human and half horse,
the centaur of mythology, the learned healer whose higher intelligence forms a bridge between Earth and Heaven.
Epona was an extremely ancient Celtic Goddess. She is (her spirit) found in the presence of horses. Apart from these animals, she is typically shown alone. Epona was much more then just a Goddess of Horses, and the people and things that accompanied them. Epona's worship grew so great, in both stature and scope, that she became a Goddess that was linked to the land, a Goddess of Fertility, and a Goddess of Sovereignty and Rulership, as well as being a Goddess who had extremely powerful ties to the Underworld. She has frequently been associated with water, and with healing.
(video: Epona- Celtic Horse Goddess)
She also had the rare distinction of being welcomed, with open arms, into the Roman pantheon of deities, where she was accepted, just as she was, for exactly what she was, which was an amazingly unique and individual Goddess. That, in and of itself, was quite a feat, yet Epona was so much more then just that. She was a Goddess who affected so many different kinds of people in such a wide variety of ways, and it is for that particular reason that Epona was able to wear the title of "Great Queen" with such distinction, and with a great amount of pride.
Mantra: Live my dream.
Affirmation: I see the path intended for me.
source: Celts & Myths/Epona – Goddess of Horses in Celtic Mythology
Epona, Celtic Horse Goddess by Judith Shaw