Rejoice today and find within your task Purpose in what you do
Never presume that what you do is too trivial or mundane
Every action that involves you expressing your energy leaves
a piece of you behind… whether through thoughts, deeds or words.
Believe and have Faith in yourself and in life.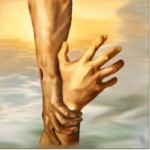 The Way It Is
by William Stafford
There is a thread you follow
It goes among things that change,
but it does not change.
People wonder what you are pursuing.
You have to explain about the thread,
but it is hard for others to see.
While you hold it, you can't get lost.
Tragedies happen,
people get hurt,
or die,
And you suffer and get old.
Nothing you can do can stop time
unfolding.
But You don't ever let go of the thread.

Daisy Says: You are Special!