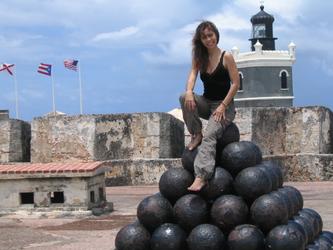 I visited the Island of Enchantment: Puerto Rico.
Located in the northeastern Caribbean Sea, Puerto Rico was the key to the Spanish Empire since the early years of the exploration, conquest and colonization of the New World. The smallest of the Greater Antilles, Puerto Rico was a major military post during many wars between Spain and other European powers for control of the region during the 16th, 17th and 18th centuries.
My first stop was to Old San Juan to visit one of the islands major attraction: Fort San Felipe del Morro a sixteenth-century citadel which lies on the northwestern-most point of the islet of San Juan, Puerto Rico. Named in honor of King Philip II of Spain, the fort, also referred to as "El Morro", was designed to guard the entrance to San Juan bay, and defend the city of San Juan from seaborne enemies. Somehow it reminds me a lot of St. Augustine, Florida.
Daisy Says: Sometimes work will take you to interesting destinations!